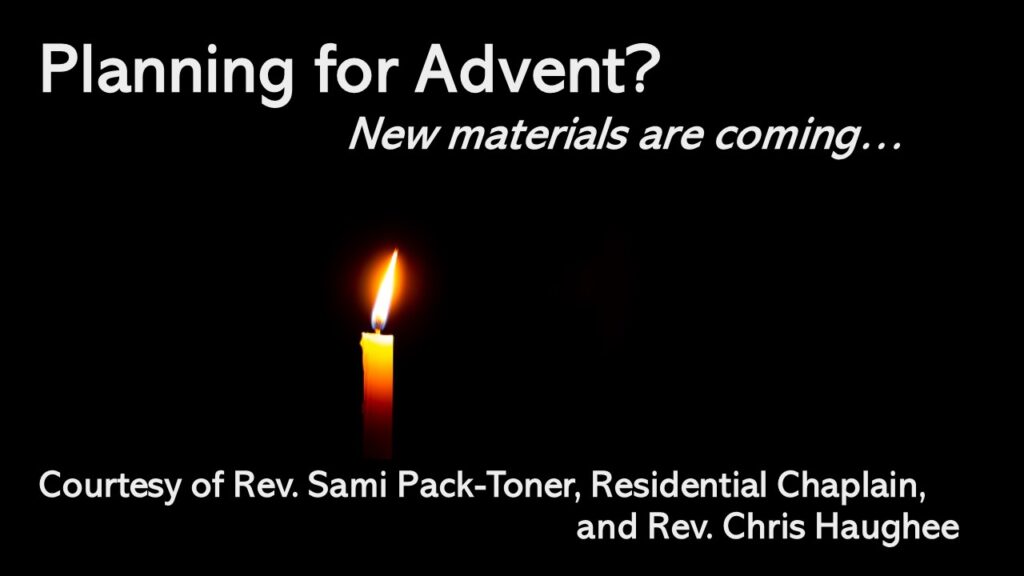 Does thinking about Advent planning already just stress you out?

If thinking about preparing for Advent already has you stressed out, don't fear… Chaplain Sami Pack-Toner and Rev. Chris Haughee are here to help!
For the last seven years, Chris has made object lessons available that coincide with the Advent readings for the liturgical readings. This year, with Sami and Chris' partnership, Intermountain is offering WAY more to help your Advent planning go smoothly and be stress-free. The materials are still being finalized (the draft version is out to a few volunteers to edit, adjust and make it even BETTER!), but here is what you can expect to be available in October:
Candle lighting liturgies, complete with a tie-in to the Hymn, "Come, Thou Long Expected Jesus!" Chris has even suggested alternative lyrics that will tie-in the weekly readings and children's lessons. These are FREE as our gift to you.
Suggested (and simple!) worship and liturgical elements that will "tie everything together" from your message to the readings and children's lesson! These are FREE as our gift to you.
Expanded lesson plans for children's ministry for each week of Advent and Christmas Eve. This will include a budget-friendly object lesson, song, snack, craft and game. And, you guessed it… these are FREE as our gift to you.
Optional tie-in to Intermountain's Change for Children (loose-change collection) or a special Christmas Eve offering, which will reinforce the message of Advent and that it is truly "more blessed to give than to receive." Those churches that choose to include Intermountain in their Advent giving have the option of ordering at cost our 30-day devotional book Hope for Healing for the congregation (comes to $5/copy shipped directly to you, if you request your copies by Nov. 3rd).
Finally, for those churches that have a Chrismon Tree, there is another excellent resource we can provide for you called 25 Symbols of Christmas, a devotional by Rev. Chris Haughee that includes patterns for families to cut out and make their own ornaments for their tree at home! (These can also be provided at cost for $4/book if requested by Nov. 3rd)

Don't you feel less stressed out just reading that list and knowing that Intermountain could save you countless hours this fall? If you are ready to say "YES!" and allow Sami and Chris to help you this Advent, let us know… reach out to Chris at chrish – at – intermountain.org or call 406-457-4850.
Comments
comments