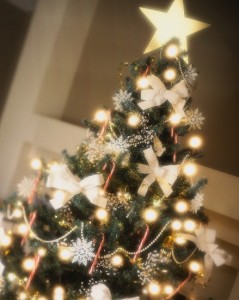 Perhaps it is still a little early to be thinking of Christmas… BUT, I want to make sure to get these materials into your hands well in advance so you can be prepared for the Christmas season. Advent and the Christmas season can be such a busy time, it can be hard to carve out moments to focus on the true meaning and purpose of all our preparation and celebration! Last year, as part of the effort to design and decorate our first ever "Chaplain's Tree" for Intermountain's Festival of Trees, I wrote an advent devotional based on the traditional Chrismons that some Christians and churches use to decorate their trees.
What's a Chrismon, you ask? A Chrismon is a type of symbol. Chrismons, or "Christ Monograms" are all hung on a tree, the Chrismon Tree. The symbolism can have a significant role in drawing our hearts back to the true meaning of Christmas, if we spend some time focusing on the meaning of those symbols. In fact, the tree itself is also a symbol for the Christmas season, a reminder of the eternal ("ever-green") truths we celebrate as we recall Jesus' birth. If you are curious about these connections between the Chrismon symbols and these deeper spiritual truths, I would encourage you to download and print off a copy of the devotional: http://www.intermountainministry.org/resources/ (scroll down until you see the link for "Advent Devotional based on the Chrismon Tree").
As we enter together into this coming Christmas season, my prayer is that you delve deep into the love God has for you in Jesus Christ. May these devotions warm your heart and feed your soul!
Sincerely,
Chaplain Chris Haughee
Comments
comments