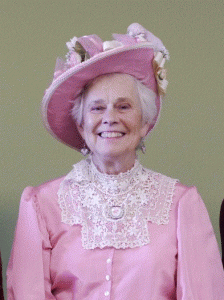 Earlier this month we had the pleasure of putting on another wonderful Girls' Valentine's Day Tea. We hosted the Tea in our Community Service Center building and were treated to a brief talk on Victorian era tea etiquette by Loy Chvilicek and a wonderful devotional talk from Lisa Bowen of Life Covenant Church. Cookies and other goodies were provided by the ladies of St. Peter's Episcopal Church and First Presbyterian Church, both of Helena. Many staff members helped with preparation, set-up, service, and clean-up, but the greatest assistance came from our resident wonder-woman, Anne Wilmoth! I was especially grateful, too, for the help that our Jewish Educator, Janet Tatz, provided in chasing down great deals on chocolate dipped strawberries from Van's and special cookies from The Vanilla Bean. I was blessed to see our young ladies in residence truly feel special and honored by the fuss made over them. It warmed my heart to see how deeply the love of God has touched the children in our care and the difference it is making in their lives.
It was an honor to have my friend and colleague, Lisa Bowen, come and share her story with us. Lisa's devotional talk focused on her personal story and how deeply it was shaped by the faithfulness of her grandmother. Lisa had even brought us a very special gift—many of the tea cups and saucers on the table were her grandmother's and she has given them to Intermountain to use for future Teas! I think the part that touched most of us was to hear about how God used something very simple—the gift of conversation over a cup of tea—to allow Lisa's grandmother to be used powerfully to affect many people's lives.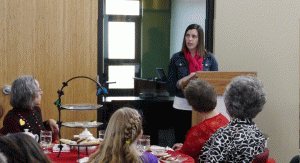 Lisa told us about how her grandparents once owned a pub in England. When an evangelist showed up in the pub and wanted to chat with them about Jesus, he was kindly asked to leave. The persistence of the evangelist paid off, however, after a week and Lisa's grandfather and the man had a talk that kept churning about in his head and heart until he made a decision to give his heart and life to God. Once that happened, Lisa's grandmother followed suit. Then, realizing their new faith was at odds with their lifestyle and business, they sold all they had and spent the next thirty years traveling all over the world sharing with people about how Jesus can change a person's life!
Apparently, during these travels, Lisa's grandfather did most of the presenting. Her grandmother did not prefer to be in the spotlight. However, she did like to have a cup of tea. So, God used her to sit down with countless individuals over the years, touching their lives with her quiet way and asking questions and hearing people's stories. Lisa's grandmother was also what one might call a "prayer warrior." She knew the power of prayer and prayed fervently and consistently for many people, including Lisa and her husband. Lisa credits her grandmother's faith and prayers with shaping her into the wonderful woman of God she is now. Those gathered for the Tea were deeply touched by Lisa's words and the gentle way with which she shared her story.
Chaplain Chris had special gifts for everyone in attendance—a little "love bug"—as a reminder of the need to spread love to others in small ways every day. And, of course, our girls all received a personalized Valentine and another gift that connected with the theme of bugs and butterflies. Each person at the Tea felt blessed to have had that time and opportunity to express the love of God toward one another and left with their hearts a little lighter and a little fuller.
Comments
comments