Life in ministry to 32 SED (severely emotionally disturbed) children is always an exercise in balancing preparation, improvisation, and constant openness to the Holy Spirit. It's part of what makes the chaplaincy at Intermountain's residential home such an exciting and challenging place to serve. I thought I might take a few moments to share how each of these factors: preparation, improvisation, and openness to the Spirit come into play on a week-by-week basis here at Intermountain.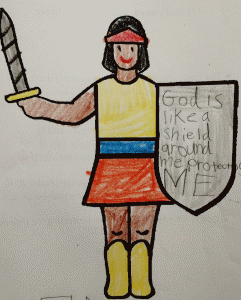 PREPARATION: So, I've always been a long-term planner, so this one is right in my wheelhouse as far as personality styles go. There are certain things on the chapel calendar that I know are "givens" because they represent part of the rhythm of the seasons and have become part of the traditions that provide a sense of consistency for our children and staff. These include Valentine's Tea, St. Patrick's Day Brunch, summer schedule for chapel, Easter/Passover celebrations, Christmas/Chanukah celebrations, and much more. Thinking ahead helps alleviate the stress that comes from trying to do plan these events and chapel activities well while also managing all the other aspects of the job. 19 years into vocational ministry to children and youth, I am at that phase where I have forgotten some of the things that I really loved and worked well in the past, only to rediscover them when I dust an "old" idea off and reintroduce it.
Recently, I have brought back something I used to do with an after-school group in Woodland, WA for scripture and prayer memorization. It is involves the kids coming up with hand and body motions for whatever we are memorizing. This last month in chapel we've been working on memorizing a shortened version of St. Patrick's "Shield Prayer." It starts out, "Christ as a light illumine and guide me, Christ as a shield overshadow me…" After getting past the children thinking we were saying "aluminum guide me," it has been a joy to see the pride our kids have learning this ancient prayer. And, for children with anxiety disorders and deep-seated fear and shame, the prayer is a great way to remind them that Christ is ALWAYS there with them to shield and protect them.
IMPROVISATION: Oh my, where I would be without this skill in ministry! Working at Intermountain requires the ability to remain flexible and improvise. You may plan chapel for 18 kids and 6 arrive, and only 3 of them on time. A lesson geared for a larger group and planned to take 50 minutes gets shortened down to a much smaller group staggered into two phases, 20 minutes with the three that arrive on time and 20 more minutes with the other 3 that come in late. Imagine the message it might send to a shame-based child struggling with issues of self worth if you even HINT at disappointment in "your plans" not working because not enough people came to chapel! I need to constantly check my own attitude and body language even while downshifting into plan B or C, all the while expressing my excitement over the presence of those who actually made it to chapel. Likewise, knowing the struggle it can be for our direct care staff to manage the kids and care for them, they often come to chapel pretty wiped out. They need to be ministered to as well. Finding a way to interject a little encouragement and fun into our plans for chapel—even when improvising—is often far more important than the bible lesson for the day!
OPENNESS TO THE HOLY SPIRIT: To illustrate this point, I want to tell a little story about what happened in the five seconds it took me to grab a small candy as a reward for the team that built the largest "card castle" in chapel recently. My plan was to have the kids build card castles as part of teams at their tables. This would transition into a retelling of Jesus' parable of the wise and foolish builders. We discussed how frustrating it was to have everything collapse with just one wrong move and how important it was to have a good foundation (I had the groups start out building on a slick surface and then gave each a carpet square to build on). The team with the largest structure was going to get a candy out of the bucket I have left over from last Halloween. I asked the group to circle up as I went to get the candy, and in the five seconds it took me to get the bucket and see the mass of candy to choose from, I had a flood of thoughts that I feel were shaped by the Holy Spirit:
I see a lot of candy here. I better avoid a struggle over what each kid gets and pick the same candy for everyone…
I see Smarties… that's a good choice! I see enough that all 8 members of the team can have the same thing!
Smarties! Being smart… that's kind of like being wise… how can I work that into the lesson's application… Hmmm?
Smart VS Wise… do our kids understand the difference? What was Jesus really getting at with the story of the wise and foolish builders? Was it about the accumulation of knowledge? No…
Jesus said, "Blessed are those who hear my teaching and put it into practice!" That's wisdom… and in that way, all these children can be wise!
Ok, Chris, time to improvise… get ready to talk about how following what we know is good and right is more important than just learning more for the sake of being "smart."
All this happened in about five seconds and then we were into a great discussion that involved some wonderful insights from the children about how they could be wise by following the simplest and most profound teachings of God: love God and love your neighbor! We even discussed the connection to our treatment model about building trusting relationships by showing we can follow the simple instructions from staff and our parents, and how that is "wise" because it builds up a sense of love and respect between us.
Hopefully these little "snapshots" into the weekly ministry here at Intermountain help give you a better idea of what the chaplaincy is about here at Intermountain. It's an honor to serve God by ministering to the children and staff that come to chapel each week. It's also a privilege speaking to many of the churches and groups that support our work in bringing healing through healthy relationships. Keep your prayers coming! We are so thankful for your love and support.
–Chaplain Chris Haughee
Comments
comments