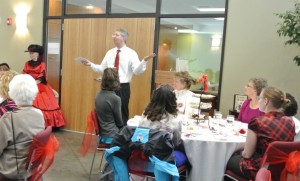 Earlier this month we had the pleasure of putting on another wonderful Girls' Valentine's Day Tea. This time we hosted the Tea in our new Community Service Center building and were treated to a brief talk on Victorian era tea etiquette by Loy Chvilicek and a wonderful devotional talk from Pastor Kendra Wilde of Our Redeemer's Lutheran Church of Helena. Cookies and other goodies were provided by the ladies of St. Peter's Episcopal Church and Grace Community Fellowship, both of Helena. Many staff members helped with preparation, set-up, service, and clean-up, but the greatest assistance came from our resident wonder-woman, Anne Wilmouth! I was blessed to see our young ladies in residence truly feel special and honored by the fuss made over them. And, in preparing to open the Tea with a prayer, one of our girls volunteered to come forward and bless our time together! It warmed my heart to see how deeply the love of God has touched the children in our care and the difference it is making in their lives.
Here are a few excerpts of Kendra's devotional talk on "feelings" in which she shared some of her own story about how Jesus helped her grow through her own hurt, anger, and depression into the wonderful woman of God she is now. Those gathered for the Tea were deeply touched by her words and the heart with which she shared them:
"When I was your age, I felt really overwhelmed by my feelings. Other girls seemed so cool and together. I didn't want to be the only one with 'issues.'
So, when someone asked me how I was doing, I gave the only appropriate answer: 'Fine. And you?' I was scared that people would find out my stomach was always in knots. And I wanted to protect my real tender heart. Yet, the truth of how we feel always has a way of coming out, doesn't it?
Maybe we chop off our hair, or wear black clothes all the time. Maybe we say mean things or hurt people. Maybe we hurt ourselves. These may be ways of us saying, 'Actually, I'm not fine.'
And, I am thankful you have Intermountain where you can say that. Where you can say, 'Actually, I'm NOT fine. I feel really mad.' Or, 'I feel so afraid.' You are someplace where you can say that your heart is breaking because you feel so alone. I didn't go to Intermountain, But Jesus still brought angels into my life. Jesus brought me friends who were willing to come alongside me and who were willing to listen to me and indulge in 'chocolate ice cream therapy' together. I didn't have a church home when I was your age, but Jesus found ways to keep me close. Jesus brought ministers into my life, like he has brought Chaplain Chris into your lives.
Jesus brought me counselors who said, 'Yes, life is hard, but together we can do hard things.' They taught me that though a feeling may overwhelm me for a while, I can experience those feelings of being sad or angry or worried—and eventually the feeling will be less strong and I can become calm again, and I can have peace. And, when I face my feelings and don't hide from them, I can also deal with what brought out that emotion.
Jesus also gave me himself—He spoke to my heart. Jesus told me that I was needed, that I was his beautiful, loved, and treasured daughter. Hear Jesus say these words to you: 'You are beautiful. You are capable. You are precious. You are brave. YOU ARE LOVED.'"
Pastor Kendra wrapped up her devotional by having each attendee repeat these affirmations to one another. It was very powerful! The devotional concluded with the girls receiving a gift—a one-of-a-kind hand-made scarf by Janet Erickson—and taking home a special Valentine personalized for them by Chaplain Chris. It person at the Tea felt blessed to have had that time and opportunity to express the love of god toward one another and left with their hearts a little lighter and a little fuller.
Comments
comments