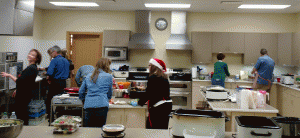 What a joyous time of year it is on campus! After all the excitement of Parent Training and the children's Winter Program, we were able to enjoy a wonderful Holiday Party at Our Redeemer Lutheran Church for our children, their families, and many siblings. Organized by Heather from our very talented cottage staff, and Melanie, our point person and volunteer coordinator at the church, the party was a wonderful success. The pictures in this post show the volunteers of the church and our staff busy in the kitchen at Our Redeemer's Lutheran and a very special guest!
Who might I be talking about? Well, the second picture tells the story. One of the highlights is the appearance of Santa, masterfully portrayed by volunteer Frank Kromkowski, and the distribution of presents. We have many elves and "Santa's helpers" to thank for making it possible to bless each child in attendance a gift. Christmas morning was special for each child on campus, as each one receives gifts under the tree and in their stockings from our very generous donors.
Among those that donate gifts are:
Hamilton First Presbyterian Church
Polson First Presbyterian Church
Roberts United Methodist Youth
United Methodist Church of Cascade
Billings First United Methodist Church
Pilgrim United Church of Christ
Van Orsdel United Methodist Church
Bozeman United Methodist Church
St. Paul's United Methodist Church
Townsend United Methodist Church
Payless Shoes
Toys4Tots
Our Redeemer's Lutheran Church
Many individuals who preferred not to be publically acknowledged… you know who you are!!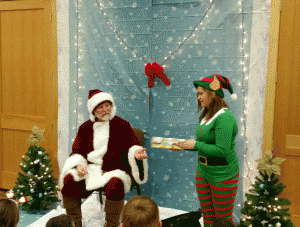 The New Year brings hope for each child and family we work with… hope that with hard work, prayer, and persistence we can affect the changes needed in relationships that will help each household represented be happier and healthier. Our donors and faithful supporters make it all possible, and we hope you have had a Merry Christmas and a Happy New Year!
Comments
comments