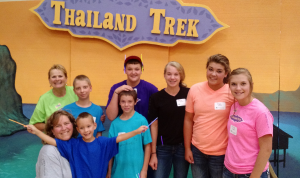 This August marked the 15th year that the amazing youth leader Joann Stark and the young people of Roberts United Methodist Church have made a special trip to Helena, Montana to blessed the children in our Residential program. Since 2000, the youth have come to campus to engage in an afternoon of play, artistic creativity, and fellowship. This year, however, they committed to be on campus for three days, putting on a wonderful Day Camp experience for us. Joann even made a special trip out the week before (and that is no small trip from Roberts to Helena!) just to make sure they could bring all the supplies for an amazing program.
The theme was "Thailand Trek," and our children enjoyed songs, games, "Tea Times" in the picnic shelter, and lessons about how God loves us, cares for us, and will be with us forever. Even some of our staff got into the act, as it was hard not to be swept up in the enthusiasm of Joann and her crew.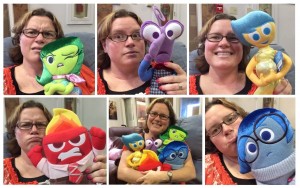 While just nine came from Roberts UMC, they had the support of their entire congregation, including Pastor Jan Witman. Pastor Jan made sure that the entire congregation was praying for the children on campus and for the youth mission team, coordinating these efforts with Chaplain Chris Haughee so that they could pray for some of the specific challenges that face our children and staff each day. In addition to this, Pastor Jan worked with us to make sure there were Intermountain bulletin inserts in each week leading up to the August trip, and that everyone felt like they were included as part of this vital outreach to Intermountain's Residential program in Helena. The fruit of all those efforts were clear in the success of the day camp, as well as the amazing generosity we were shown through the many gifts we were left with as they returned to Roberts.
Our staff were blown away to see over $1,200 in gifts pile up on the gymnasium floor as the youth came in from their shopping spree around town. New clothing was purchased for our "Treasure Chest" donations room, new arts and crafts supplies and over-the-ear headphones for our school, and our therapists were even blessed with a special gift—all the "feelings" characters from the Disney film, "Inside Out." Pictured with this article is one of our amazing therapists with her impression of the feelings each doll represents. These dolls will be a special tool in helping our children continue to work through the difficult emotions they are struggling to make sense of so they can have healthier relationships.
We are so thankful for the partnership of churches like Roberts UMC and their youth. They understand that you don't need a huge church, a big budget, and lots of people to make a difference. They have just humbly responded to the call to get involved and make the children of intermountain a priority. As they have done so, the Lord has blessed them tremendously and they have been able to surpass even some of their own expectations. I hope their story is an encouragement to you as you think about how you, or your group, might want to get involved in the ministry here.
Comments
comments