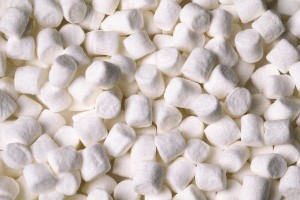 Objects needed: Two bags of marshmallows, one open so you can hand each child a single marshmallow, and the other closed.
Theme/Main Idea: The temptations that Satan confronted Jesus with had more to do with timing than anything else. Jesus trusted God the Father to give him what he needed and what was his at the appropriate time. As we look ahead to Easter, can we be as patient as we wait on the Lord to meet our needs?
Text: Matthew 4:1-11
Presentation:
"How many of you like to eat? Mmm-mmm… me too! I like to eat so much that sometimes I eat things I know aren't really good for me, but they taste good! [Take out marshmallows.]
What are these? Yep. Marshmallows… yummy marshmallows. I'd like to give one to each of you. Would that be okay? But, before I do, what if I told you that you could have one yummy marshmallow now, or… IF you waited and just held on to that marshmallow, I'd meet you back here in 45 minutes and you could show me that marshmallow, and I would give you 9 more… making how many? Yes! TEN total marshmallows. What would you say about that? [Pass out the marshmallows, wait for responses]
How many just want to eat the one marshmallow now? [response] How many would rather hold on to it and guard it, and then show me later, earning another 9 marshmallows? [responses]
Very interesting. Did you know that this is the type of choice that Jesus had before him in the Bible lesson today? When Satan tempted Jesus with turning stones to bread, depending on God to send angels to protect him from a fall, or the chance to rule all the nations of the world… well, all these things were stuff that Jesus could have given into and said, 'I deserve this. I want it now.' Think about it, Jesus created the whole world, so if he wants to change a rock into bread, why not? Jesus is God the Father's only Son, dearly loved, so  Jesus might have thought, 'Why not test my Father's love by doing something dangerous and scary?' And, finally, Jesus is God—King over everything. So, ruling over the nations? He might have thought, 'Ok, that sounds reasonable. Someday everyone will bow their knee to me, so why not today?'
Wow. Kinda a big deal when you think about it that way! Why didn't Jesus just take the devil's bait and give in to one of those tests? I think it was because he knew that all the good things God the Father wanted for him needed to also come WHEN the Father knows is best.
Waiting for God can be a tough thing. It can be as tough as holding on to a yummy marshmallow now, because you know you'll get even MORE later if you wait. But, waiting for God to answer our prayers and meet our needs always works out better than trying to get things done on our own. Let's pray for God's help as we look ahead to Easter, as we wait on God and listen to him teach us and lead us.
Let's pray:
God, thank you for your presence in each of our lives. Give us patience to wait for all the good things you promise to those that love you and place their trust in you. When the little temptations of this life come our way, help us not trade in our heavenly treasures for the little trinkets this world can give us. Help us hold out for the best, YOUR best God—for us, and for our church and our community. In Jesus' name, Amen."
Key Text: Matthew 4:1-11, New International Reader's Version (NIRV)
4 The Holy Spirit led Jesus into the desert. There the devil tempted him. 2 After 40 days and 40 nights of going without eating, Jesus was hungry.

3 The tempter came to him. He said, "If you are the Son of God, tell these stones to become bread."

4 Jesus answered, "It is written, 'Man doesn't live only on bread. He also lives on every word that comes from the mouth of God.'" (Deuteronomy 8:3)

5 Then the devil took Jesus to the holy city. He had him stand on the highest point of the temple. 6 "If you are the Son of God," he said, "throw yourself down. It is written,

"'The Lord will command his angels to take good care of you. They will lift you up in their hands. Then you won't trip over a stone.'" (Psalm 91:11,12)

7 Jesus answered him, "It is also written, 'Do not put the Lord your God to the test.'" (Deuteronomy 6:16)

8 Finally, the devil took Jesus to a very high mountain. He showed him all the kingdoms of the world and their glory. 9 "If you bow down and worship me," he said, "I will give you all of this."

10 Jesus said to him, "Get away from me, Satan! It is written, 'Worship the Lord your God. He is the only one you should serve.'" (Deuteronomy 6:13)

11 Then the devil left Jesus. Angels came and took care of him.
NOTE: If you liked this lesson, there's more! Check out the Resources Tab and click the "7 Object Lessons for the Easter Season" that pairs lessons like this one from Chaplain Chris Haughee with our "Change for Children" campaign to help finish raising money for our chapel project on campus at 500 S. Lamborn in Helena!
Comments
comments