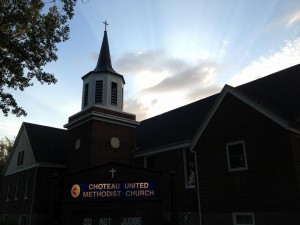 I had a wonderful time sharing Sunday worship with the fine folks of Choteau United Methodist Church. They are a congregation eager for God's Word and invested in the ministry and mission of Intermountain. They are blessed to be very capably led by Pastor Jesse Bale, who graciously allowed me to fill the pulpit last Sunday and share a message from the life of Jacob in the book of Genesis. A highlight of the morning had to be when, after the sermon, a gentleman from the back of the sanctuary walked up to the front (interrupting Pastor Jesse, though I don't think he minded!) and gave a special thanksgiving offering and announced that he was grateful for the role Intermountain played in his life: He lived at the Deaconess Home as a toddler from 1929-1930, was adopted by a family in Choteau, and he and his wife adopted a young girl from Intermountain in 1959! He has been connected to the work of Intermountain for 84 years… amazing! Other congregants told me about their membership on Boards in the 1960s and 1970s, others who helped Intermountain through two moves for its residential campus. It puts into perspective all of those "long-timers" at Intermountain who been around for "only" a few decades!
Clearly the ministry and mission of Intermountain depends on the faithful prayers and support of congregations like Choteau UMC. It was an honor to worship with them, and I hope to return again soon. Below you will find the sermon I shared with them on Sunday. I hope you enjoy it… make sure to click the "read more" button to get the whole story!
–Chaplain Chris
"From Trickster to Truster"
Thank you for this opportunity to come and share with you, not just my love for the children of Intermountain and our gratitude for your partnership in ministry with us, but also some insights from God's Word this morning.
Before coming to Intermountain, I spent 15 years in parish ministry—teaching, preaching, and trying to relate the beauty of God's Word to the lives of men, women and children. So it a joy to be here with you today. As we open our mind, hearts, and ears to what God's Spirit would say to us through God's Word, let us pray:
[prayer of illumination]
Sometimes there is an association of Intermountain's work with the poor—children from low economic strata that have been abused or neglected. And, while that is part of our work, that is nowhere near the full story. You see, anger and loneliness come from families at every income level.
I would like to relate to you Charles' story, as told by Liz Kohlstadt, our Chief Clinical Officer. Charles was a handsome, athletic, intelligent boy from a very wealthy, powerful family who counted a recent president as a close friend.  Charles's mother was so sad and worried herself that she couldn't tolerate her little boy's need for affection and she locked her toddler son out of her room, despite his desperate pounding on the door.  Charles' father was too absorbed in acquiring and strutting his wealth and power to pay attention to Charles.
So, Charles was parented by a succession of nannies.  He was given every possible luxury except the one he needed most – a mother who loved him and a father who cared more about him than money or power.  Charles turned destructive and willful – he destroyed property, bullied the hired help and even threatened his brother with a gun. 
On arriving at Intermountain, Charles announced that he didn't need relationships and told us that he was better than the other children because his family was rich and powerful and he got lots of presents.  But staff knew that beneath this bravado, Charles felt scared and lonely and unloved, so we rocked him and listened to him just like we did with the other children.  Staff helped him talk about the emptiness of his life.  He began to understand the pain of his mother who couldn't meet his needs and the poverty of his inner world.
As he began to feel deeply and cry with others, he reached out to a little boy who was severely brain damaged and so primitive that he ran on all fours like a monkey.  This little friend was the opposite in background, status and ability from Charles.
Charles became his protector, friend and mentor.  Charles found that by connecting with others, he could experience the importance and love he was seeking.  The importance of presents and possessions diminished and the importance of authentic relationships emerged.
Humiliation turned into humility and by experiencing the commonality of human experience, Charles got back more than he gave.  His changes influenced his family and now they all share a depth of relationship that had been impossible before. He had gone from a hurting, mistrusting and manipulative boy to a young man that could trust others enough to have genuine relationships.
We see this same dynamic within the narrative of scripture before us today. The biblical account of the life of Jacob is found in the Genesis, chapters 25-50. There is much too much truth within these passages to mine it all in the short time we have. So, instead, I have decided to highlight the fundamental choice before all of us illustrated in Jacob's personal crisis.
You see, in considering Jacob's life, we'll see that we have two ways before us, two major life-patterns that people fall into… you, me… young men like Charles, all of us struggle with choosing this path. These two ways are:
1.    The Way of the Trickster: We can try our best to control our world, to manipulate others and our situation, and by these efforts serve our own needs. Often, we might feel we are justified in these actions because we can't trust others (and, in many cases—like Charles'—we have very good reasons for not trusting others!)
And, our second choice is:
2.    The Way of the Truster: By choosing this path, we desire to grow in our daily experience of God's control and care for us. Daring to trust in others and in God's sovereignty allows us to rest in the knowledge that God will bring about his purpose in its proper time.
At Intermountain, the ways we see children grow in their trust of adults is the same way we see Jacob grow in his trust of God rather than trusting in his own ability to control his world. Consider for a minute the life Jacob has led up to the point where he lays his head to rest on that rock, running for his life from a vengeful elder brother.
Isaac was married to Rebekah, and she gave birth to twins, though these two boys were as different as they could possibly be. Esau, the elder, was born covered with hair… almost as if he were wearing rough clothing! A rugged bear of a man, he became a great hunter—a man who loved the outdoors, the open fields and the open skies. Esau would have loved Montana! Isaac, who had a taste for wild game, loved Esau dearly.
The youngest, even if by just a minute, was Jacob. He was the opposite of his elder brother. Jacob was a quiet man who enjoyed being around others. He was his mother's favorite and found ways to be helpful while staying close to home. God had told Isaac that both Jacob and Esau would be the leaders of two great nations, but of the two, Jacob would be greater.
Certainly, everything in Isaac's experience of the world would have led him to question God's message. Esau looked the part of a leader of men, while Jacob… well, Jacob was a bit of a momma's boy. And, as we see, momma knew how to help HER favorite get ahead.
Now, Jacob's taking advantage of his brother's hunger to steal his birthright appears to be all, or at least mostly, his own doing. But, by the time we get to chapter 27 of Genesis, Rebekah takes charge and makes sure that Jacob gets what God has said is coming to him. I am thinking that if Rebekah had a refrigerator, she would have had a magnet on it that read "God helps those who help themselves!"
You see, Isaac was an old man, blind, and expecting to die soon. So, Isaac called for HIS favorite son. Isaac had lived his whole life trusting his own senses. He depended on what he could see, smell, hear, taste and touch. One by one, these faculties were leaving him. So, before it was too late, he called Esau to him:
Isaac: "Esau, my boy, go and get your bow and hunt some game for me. Do this one thing for your old man, give this small pleasure to a dying man, and I will give you my blessing before I pass away."
So, Esau did as he was told. He was off to hunt something special for his dying father… no harm in that, had Rebekah not overheard their conversation! You see, whether or not it had been right for Esau to sell his birthright for a bowl of stew, or for Jacob to take advantage of his brother's hunger to get him to make a rash vow… that vow was legally binding. This gave Rebekah an idea!
Rebekah takes some goats from her husband's flocks and cooks them up just as Esau would have prepared the wild game… maybe not exactly, but well enough to fool an old man whose senses were failing him. Rebekah disguised her favorite son, Jacob, so that her husband would think it was Esau, and when he entered the tent it might have gone something like this:
Jacob: "Father, wake up, it's me—Esau, with your stew. Eat up, I want to receive your blessing."

Isaac: "Esau? You were quick! And, what's wrong with your voice? You sound like Jacob!"

Jacob: "Quick, er… yes. Well, God gave me favor and helped me. Here, eat this stew. I caught the game myself, just as you said, so that you'd give me your blessing."

Isaac: "Hmm… come closer, my son… err… Esau. Let me touch you… Well, you feel like Esau, even if your voice seems to be Jacob's. Are you really my son Esau?"

Jacob: "I am, Father."

Isaac: "Well, then, you have my blessing. May God give you the heaven's dew, and plenty of grain and new wine. May nations serve you and bow down before you. You will rule over every member of this household forever. May those who curse you be cursed, and those who bless you be blessed."
And, likely surprised that his mother's scheme worked so well, Jacob slips from the tent just in time to avoid Esau, who has returned from his hunt.
Now, God had told Isaac that it would be the youngest son that would rule over the eldest. But, because Isaac favored Esau, he was ready to ignore that word from God and wanted to bless his eldest son. Rebekah saw this and put her plan into action, deceiving her husband. Jacob had his full inheritance, but had lied and cheated to win what he saw was his by right. Rather than trusting that God could see his promise through, and that God was really in control of the situation… Jacob took matters into his own hands and it cost him dearly.
It cost him everything he had known… once a home-body, Jacob has to flee with what little he can carry himself into a strange land. Used to the comforts of home, he spends his first night sleeping under the stars with a rock for his pillow.
It cost him those relationships which should have been his closest in life—having betrayed his Father and brother, he leaves those relationships in tatters. Running from what he has known as home…his mother's side… he will never see her again. She dies while he is away serving his uncle Laban.
Jacob has nothing… having relied on his own way of navigating life's choices, he is at the end of the road. He was never the outdoorsman… that was always Esau's strength. He might have rightly expected to be hunted down by Esau overnight. Cold, alone, exhausted and afraid he lays he head down on the cold, smooth stone.
And, at the end of himself… Jacob encounters God. He has the vision of angels ascending and descending from God's throne. He understands that God really is in control, and can be trusted.
And what does God say to Jacob?
"I am with you and will watch over you wherever you go, and I will bring you back to this land. I will not leave you until I have done what I have promised you."
I am with you. I will watch over you. I will bring you back. I will not leave you. I will do it. I have promised.
In short, the same message God has always sent his Creation: I AM. Trust ME.
God makes this same promise to us, and makes that same promise to the "Charles" of the world and all children served through Intermountain's work around the state and region.
Do you "get" how amazing this news is? Do you? The amazing thing is this: we don't have to be tricksters. It is not up to us to look out for ourselves… mistrusting everyone else, assuming they mean to do us harm. We don't need to manipulate our world and others we encounter just to survive. No… this only leaves us between Beersheba and Harran, between a past we're not proud of and an uncertain future… lonely and afraid, with a stone for our pillow.
We can take the first step towards being a truster this day. We can see, as Jacob did, the spiritual realities behind the physical mess we might find ourselves in. We can see that God is indeed in control and promises never to leave us or forsake us until he brings about for us all the good he intends for us.
[pray to close]
© Chaplain Chris Haughee, 2013
Comments
comments