Hebrews 11:1 says, "Now faith is being sure of what we hope for and certain of what we do not see."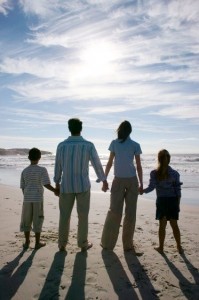 Faith and hope are needed for healing in relationships. At Intermountain, we focus a great deal of energy on bringing healing to the relationship between parent and child. Furthermore, I know from both personal and professional experience that faith and hope are not just optional for the journey of parenting, they are essential. These sentiments are echoed by both the children in our care and their families. But, consider for a moment those children who don't have a family. For the child going through the struggle of healing deep emotional wounds, imagine how much deeper the need for faith and hope when they don't have parents to heal with.
At any particular time on campus we have a handful of children that have no permanent placement. When I ask for prayer requests, invariably these children ask me to pray that they would get a family. They long for parents to love them and stick with them through the hard work they are doing to trust, to have faith, and to hope for something better. The challenge that these children would bring to adoptive parents can be very intense, and taking on the responsibility to parent should never be entered into without a great deal of prayer and careful investigation. But, I would argue, if any would have the resources, experience, and support system in place to make parenting these children possible, I'd say it would be those connected to our supporting churches and our larger faith community.
It is a hard thing to do the work of healing relationships without that most significant relationship—parent and child. That conspicuous absence makes faith, hope, and trust tenuous, and it leaves the child with more questions than answers. One of the young ladies who has since left our care longed for answers to her questions. Her overriding question? "God, why would you make me if you knew I was going to be so hurt and I was going to have so many problems?"
What does your faith say in response to this young lady's question? What hope does she have to get an answer from God… unless it is through a tangible expression of his love, care, and acceptance into a family? Indeed, "faith is being sure of what we hope for and certain of what we do not see." I am sure that God has an answer to each prayer a child makes asking for a family. I believe that this answer to prayer will come from the community of faith, and you have a role to play.
Will you commit to pray alongside our children for healing, hope, and faith? Pray for families for each of our children. And, finally, will you lift up the chaplain's program, our counselors, care givers, therapists, teachers and technicians as they endeavor to embody love, acceptance and grace to those who need it so desperately? Thank you.
Comments
comments