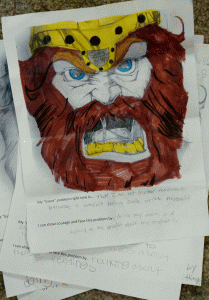 David and Goliath is a favorite Bible story for most children. It tells the harrowing and heroic tale of a little boy facing down a giant and besting him on the battlefield. Recently in chapel, we discussed how God can help us face the giant-sized problems we have in our lives. Importantly, our children realized that David was courageous NOT because he was unafraid, but that he allowed his faith in God to give him the strength to face his fears.
Every child in Intermountain's Residential program faces problems that would dwarf many of the issues that you and I might complain about in our day-to-day lives. Deep insecurities and fears have allowed negative thought patterns and behaviors to form both the armor that has kept them safe and the cage that keeps them isolated from the relationships they desire. Whether from early abuse, trauma, or neglect of some kind—or perhaps just a genetic issue of some kind—the challenges that may seem like insignificant hurdles for those of us on the outside appear to be 9-foot tall, giant-sized enemies bent on destruction.
Listen to a few of the comments from our children after our chapel time:
"My giant-sized problem is that I am at intermountain because I wasn't being safe with myself. I can show courage and face this problem by doing my work and talking to staff about my problems."
"My problem right now is that I have to overcome my feelings about leaving Intermountain. I can show courage and face this problem by talking about those feelings."
"My giant problem right now is getting along with my staff. I can be courageous by showing them I want to change by being able to talk about hard things."
What role do you play in encouraging these young "Davids" to face their giant-sized problems? First, I hope that you would pray for them to keep reaching out to the adults in their lives that are there to help them heal. Second, you can support Intermountain—a place that encourages them to look up with faith as well as out to others for help—with your time, your prayers, and your faithful financial support. Together, we can help our children face their giant-sized problems and encourage them to have hope for a better future.
Comments
comments