I am pleased to announce that a NEW, 8-week version of the study, "Bruised Reeds and Smoldering Wicks," is now available. Two additional weeks of materials have been added to address caring for adults who are experiencing trauma and a "where do we go from here?" lesson on implementation and strategic next steps for congregations seeking to be trauma-informed.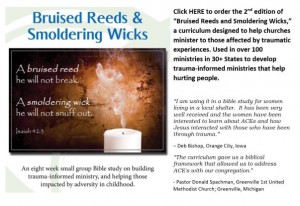 I am indebted to the over 100 congregations, homeless shelters, small groups and various ministries across the United States and Canada that engaged with the first edition of the materials. Their feedback and encouragement has hopefully made the second edition better and more comprehensive. I am thankful for those who are willing to explore these issues within their faith communities and I praise God for what that might mean for so many that have yet to find a church or fellowship that welcomes them as they work through their trauma story.
Some of those who used the first version of the curriculum volunteered to provide not just their feedback, but a short testimonial as to how they used the curriculum in their context and how they found it helpful:
"I am using it in a bible study for women living in a local shelter.  It has been very well received and the women have been interested to learn about ACEs and how Jesus interacted with those who have been through trauma… thank you for developing this study!" – Deb Bishop, Orange City, Iowa
"Everyone, and I mean everyone, has really enjoyed the Bible studies… Our discussions have been rich, edifying, encouraging, and life-giving. Thank you so much for this wonderful work. More people need to experience it!" –Dr. Stan Sonu, MD, MPH; Grady Memorial Hospital; Emory University School of Medicine
"I give my highest recommendation of the Bruised Reeds & Smoldering Wicks adult study.  Each of the six classes provided valuable information about the importance of trauma-informed ministry.  In addition to learning more about compassionate care, I found the scripture, readings, short videos and discussions very uplifting to me personally by enriching my Christian faith." – Suzanne Mannix, Mental Health Advocate; Helena, MT.
"For a church that has been hosting an open community meal for years, this curriculum was an excellent first step toward a deeper understanding of how we can best love all people who walk in our door. Even those whose life experiences make them prickly or distant. It was a real launching point in the reshaping of our ministry together." – Jacqui Buschor; Columbus, OH
"The curriculum gave us a biblical framework that allowed us to address ACE's with our congregation." – Pastor Donald Spachman, Greenville 1st United Methodist Church; Greenville, Michigan
"The Bruised Reeds study was recommended to our church by a mental health professional who is also a Christian. We had already been learning about the scientific studies and medical evidence that have caught up with what God has already told us in His Word. Our faith is strengthened as we move forward in creating a new trauma-informed environment at our church… We participated in this study as a pre-cursor to starting a new ministry. The leaders have announced a fellowship meeting that will take place … and we invited all the people who expressed an interest in finding support at the church." – Heather Halverson; Annandale, VA.
Comments
comments