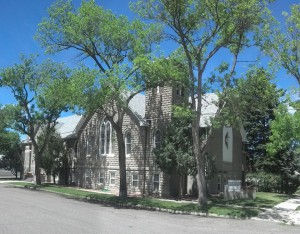 On June 23rd I had the pleasure of filling the pulpit at Laurel United Methodist Church. Both the building and the people were beautiful, and I thoroughly enjoyed the visit. The scripture passage I preach from was from Luke, Chapter 8. The message was how God seeks to use us IN our brokenness and hurt, not in spite of our brokenness… or, as is often our thinking, after we've been healed or gotten ourselves "back on track." Our brokenness is a reminder that we are ALL in need of grace of God, and with this realization we can truly be used of God to share grace and love with others.
Through the service and in the Q/A session that followed, there was great interest in the on-going work of the church's ministry as expressed through the chaplain's ministry here on campus. There were a number of people especially interested in the expanding services at Intermountain and the plans for a new building for the Chaplain's program. It's plain to see that has been a strong connection between our ministries should only grow with time! Apparently, the Missions Committee is contemplating a visit to Helena in the future… I hope they come soon and can see all the amazing work our staff do each day with the children! Laurel is a ways away, but the ongoing ministry to children and their families keep us connected.
It was great fun being able to bring my family along for the trip and to be able to spend a good amount of time talking, meeting, and laughing with such a wonderful congregation. A special thank you to Linda Shelton and Rebecca Stewart for making sure everything went smoothly.
Chaplain Chris Haughee
Comments
comments