NOTE: Today, October 29th, is Kalkidan's birthday. The Qualls have invited everyone who would like to honor her memory to wear orange (a favorite of our bright, vivacious friend Kalkidan!) or pose with something orange and post a picture to social media with the tag #rememberingkalkidan. To the right are pictures taken today of those of us at Intermountain that remember Kalkidan, miss her dearly, and love her family. I have also decided to repost this message I shared a month after her loss, because I think the message still rings true.
Sincerely, Chaplain Chris Haughee
Recently, the extended Intermountain family suffered a tremendous loss. One of our recent graduates, Kalkidan, passed away as result of injuries sustained in a car accident. She was on her way to Montana to visit friends that she grew close to during her time in our care. The loss of Kalkidan hit us hard. Personally, I spent many hours one-on-one with her as "walking buddies," which mostly meant we got together to compete over a game of basketball in the gym or a spirited game of SkipBo.
Kalkidan came into our care with a lot of spiritual questions. She had been blessed by an amazing family of great faith, but like most children she was sorting through her faith and her own commitment to Jesus. If you are familiar with this blog, you might remember the post "I Don't Like Grace." Kalkidan was the amazingly reflective and honest young woman I was referring to in that post. (read more: http://www.intermountainministry.org/i-dont-like-grace-revisited/)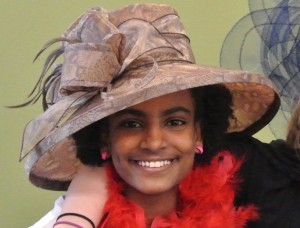 By the time Kalkidan left to return home to her family, she had come to accept grace. As I wrote then, "The knowledge of God's grace and love has traveled from her head to her heart. She is much more forgiving of others and herself because she understands that we all need God's grace. It is nothing short of a miracle that the Lord has changed her heart. I feel so much more confident about her prospect of making healthier choices as she transitions home than I did a year ago."
Since her passing, I have had the chance to speak with her dad, Russ. I was blessed to hear how much that change in Kalkidan's heart I was able to identify had affected her faith and the expression of the love she felt for friends, family, and God. It was hard not to cry as Russ related how Kalkidan's whole demeanor at home had softened and how much more naturally she had come to express her faith. She had started inviting friends to church and youth group and was able to experience a sincerity and authenticity in worship that was an example not only to her peers but adults as well.
I am often challenged to express just why Intermountain needs a chaplain's program. It's an "elective"—meaning children and families can choose to participate or not. Children come to Intermountain's residential program for sound clinical treatment in a developmental-relational program, not to have their child learn more about Jesus. However, when a family like the Qualls and a young lady like Kalkidan chooses to participate, God can do amazing things! God was clearly working in Kalkidan's life prior to the time I was able to befriend and mentor her. I can't claim to have done anything more than allow myself to be used by the Holy Spirit to continue the conversation started long before and continued after her time in our care. That, I feel, is more than enough to justify the presence of a chaplain's program at Intermountain.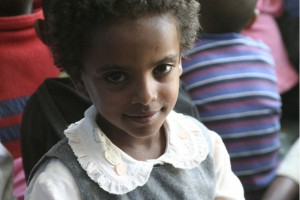 God cares for each and every one of his precious children. Knowing Kalkidan has been a blessing beyond measure to those of us at Intermountain. I wanted to close with a beautiful post from Lisa Qualls' blog that expressed better than I could why those of us that knew Kalkidan feel so blessed.
Still mourning, but hopeful—
Chaplain Chris Haughee
---
The following post appeared on Lisa Qualls blog, www.onethankfulmom.com. The direct link is: http://www.onethankfulmom.com/attachment-and-trauma/16581/#.VMaXXU10zIV
Our dear friend, Dan Hamer, shared these words on Facebook following Kalkidan's memorial service. Dan is a pastor at Overlake Christian Church and an adoptive father. He heads up the work in Kenya that allows Russ to do ministry as a hydrologist. He is also Kathleeen's husband; together they have opened their home to us many, many times, especially during the years when we were traveling to Seattle every other week for therapy with Kalkidan. Now they're stuck with us for life.
If you didn't get the chance to know Kalkidan you missed an amazing young girl with a smile that would light up a room and melt your heart. She also had a tender heart of gold and a larger than life personality. She was adopted by our dear friends eight years ago from an orphanage in Ethiopia having lost both of her parents to AIDS. Just last week at the age of thirteen, Kalkidan was killed in a tragic car accident.
Even though in this life she was surrounded by an incredible family and countless friends who showered her with love and encouragement, she was just beginning to figure out how to accept it. As often is the case with children who have suffered trauma, neglect, and abuse it is not easy for them to understand the unconditional love of a family or a God who loves without strings. They don't always see themselves the way we see them, let alone how God sees them.
I know that in heaven, Kalkidan now fully understands this and I suspect that her smile is even more magical. I would venture to say that everyone who had the privilege of loving Kalkidan also learned an invaluable lesson about unconditional love. Not surprisingly, the student became the teacher and we are all better at both giving and receiving love for having loved Kalkidan.
While my family's tears this week could have filled a bucket and over a thousand friends and family attended her memorial service, there are many like Kalkidan whose passing will mostly go unnoticed. I suspect that would have been the case had she remained in the orphanage. The world is full of Kalkidans who need the constant assurance that their life matters and that regardless of anything they do, or don't do, that they are loved.
I am convinced that everyone needs a Kalkidan in their life to teach them this lesson. I hope you will look for one in your life. They don't just reside in orphanages in Ethiopia. They are in every homeless shelter, prison and foster care agency. They are also in every school, church, and family. These are children who as a result of their brokenness don't always behave the way we would prefer and whose beauty and gifts will oftentimes go unnoticed unless someone is there to walk alongside them. Don't sit back and criticize and judge them, get off your high horse and show them the unconditional love that God has shown you.
Find a Kalkidan and you will never be the same. — Lisa Qualls.
Comments
comments