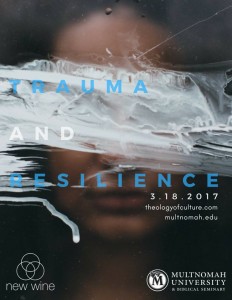 There is an exciting conference coming to the Pacific Northwest, and Chaplain Chris Haughee has been invited to present. The conference is called "Trauma and Resilience" and is hosted by the University where Chris is completing his Doctor of Ministry.
CLICK HERE for more information on the conference.
This conference aims to tackle some of the more perplexing issues surrounding the current discussion in multiple fields around trauma. It is often said that art is impossible to define, though "you know it when you see it." Is this what trauma is like? To be sure, trauma seems difficult if not possible to define. Yet, insidiously, because of the innumerable forms and shapes it takes, many of us would not even recognize trauma when we see it. Perhaps provisionally, we can define trauma as anything that shatters one's trust in the world. Or further: trauma occurs when the very tools we use to build trust in the world are those things by which we've been betrayed.
How does one cope, when the usual ways to cope are the very things that cause harm? During the Trauma and Resilience Conference, Chaplain Chris Haughee will have the honor of joining a host of other expert speakers that will present trauma in a variety of angles. Their hope is to help everyone not only recognize how trauma affects all corners of life–from relationships, to communities, to politics, to literature–but also how we can begin to help one another heal and move beyond brokenness into resilience.
Chaplain Chris will be pairing up again with his friend and colleague Kimberly Konkel, from HHS in D.C.. (see below). They last presented together at ChildWise's Fall Conference in Helena, Montana. Those interested in the conference should visit the website for the latest information. Conference fees are very reasonable, starting at $15 for students and $30 for adults.
You can secure your spot at this groundbreaking, interdisciplinary conference HERE.
Here is the list of speakers schedule to appear:
BEN SAND (PLENARY SPEAKER ONE) – TRAUMA AND YOUTH
The future will require us to raise-up leaders prepared to engage a constantly changing world—where access to information brings trauma front and center at a moment's notice. Ben Sand, CEO of Portland Leadership Foundation, will discuss how we can collectively work with young people to raise them up through trauma into resilience.
ERIC KNOX (PLENARY SPEAKER TWO) – TRAUMA AND RACE
A pastor at Imago Dei's Eastside location and founder of Holla Mentors who "stand in the gap to change the story so commonly understood for black and brown children through mentorship," Eric will be presenting a plenary session on "Trauma and Race."
J. DAVE KINZIE, M.D. (PLENARY SPEAKER THREE) – THE PSYCHOLOGY OF TRAUMA
Dr. Kinzie specializes in Adult-Outpatient Psychiatry at the Oregon Health and Sciences University, and in particular specializes on the psychiatric treatment of refugees, post-traumatic stress disorder, and depression. He is our third plenary presenter, and will be sharing on the psychological effects of trauma.
DR. PAUL LOUIS METZGER (CONFERENCE INTRODUCTION)
The Director of The Institute for Cultural Engagement: New Wine, New Wineskins, and Professor of Theology of Culture at Multnomah University and Biblical Seminary, Dr. Metzger will be giving introductory reflections on theology and culture, framing the themes of the conference into the broader vision of New Wine, New Wineskins.
DR. LAURA GARDNER (WORKSHOP AND PLENARY PANELIST) – TRAUMA AND RESILIENCE IN MISSIONARY WORK
Dr. Gardner has worked for Wycliffe Bible Translators and the Summer Institute for Linguistics for over fifty years, and is the author of Healthy, Resilient, & Effective in Cross-Cultural Ministry. During that time she was a pioneer of introducing issues of trauma and resilience into training for missionary work, and will be presenting on how trauma comes to bear on the missionary field. In addition, Dr. Gardner will be one of several on our closing plenary panel session.
DR. ROBERT POTTER (WORKSHOP AND PLENARY PANELIST) – TRAUMA AND POLITICS
Robert Potter's professional life has combined medical practice, teaching, and bioethics consultation. He practiced internal medicine and geriatrics for 30 years, and also holds a Ph.D. in Religion from the University of Chicago Divinity School. From 1994 until his retirement in 2004, he was the bioethics scholar, instructor, and consultant for the Center for Practical Bioethics in Kansas City, MO, and from 2004 to 2014 he was Senior Scholar for the Center for Ethics in Healthcare at OHSU. In addition to his workshop, Dr. Potter will be one of several members on our closing plenary panel session.
DR. STEVE KOLMES (WORKSHOP) – TRAUMA AND THE ENVIRONMENT
Steve Kolmes is the Director of the Environmental Studies Program, Professor of Biology, and the occupant of the Rev. John Molser, C.S.C. Chair in Science at the University of Portland. He has served on government scientific advisory panels such as NOAA-Fisheries Technical Recovery Team for the Willammette and Lower Columbia Rivers, and will be talking about how trauma shapes, and is shaped by, our current environmental issues.
DR. DOMANI POTHEN (WORKSHOP AND PLENARY PANELISTS) – TRAUMA FICTION
Domani Pothen is Professor of English at Multnomah University, and received her Doctorate of Arts from Idaho State University. Trauma as a reality is peculiar in that by its very nature it often eludes our ability to process or represent it. Dr. Pothen will be presenting on how trauma appears in literature, how we attempt to represent it, and how great literature can open our eyes to profound ways to survive and perhaps eventually even move beyond, trauma.
CHRIS HAUGHEE (WORKSHOP) – CHILDREN AND FAMILIES LIVING WITH TRAUMA
The Reverend Chris Haughee is a licensed minister of the Evangelical Covenant Church and has served as chaplain of Intermountain's residential services since 2012. Chris is currently in the final year of a Doctor of Ministry in Cross-Cultural Engagement program. Chris will be co-presenting on "Building Resilience Though Addressing Adverse Childhood Experiences in Your Faith Community."
KIMBERLY KONKEL, MSW (WORKSHOP AND PLENARY PANELIST) – CHILDREN AND FAMILIES LIVING WITH TRAUMA
Kimberly Konkel serves as the Associated Director for Health in the U.S. Department of Health and Human Services, Office of Intergovernmental and External Affairs, Center for Faith-based and Neighborhood Partnerships, where she leads the work to combat the four co-occuring epidemics of suicide, violence, untreated mental illness, and addiction. Along with Chris Haughee (above) Kim will be co-presenting a workshop on "Building Resilience through Addressing Adverse Childhood Experiences." In addition Kim will be on the closing Plenary panel.
DR. KAREN FANCHER (WORKSHOP) – ETHNIC CLEANSING, REFUGEES, AND TRAUMA
Dr. Karen Fancher specializes in understanding the impact of war-related trauma in the country of Sudan and elsewhere, and is currently a Professor at Multnomah University in the MAGDJ (Master of Arts in Global Development of Justice). She will be presenting a workshop on how war and its resulting trauma impacts individual and communal psyches, and how it is so necessary to understand these situations to move forward to bring hope and healing to the world.
DR. MIKE GURNEY (WORKSHOP) – HELPING VETERANS WITH POST-TRAUMATIC STRESS
Michael Gurney is professor of philosophy and theology at Multnomah University. He served in the United States Navy ('81-'87) in the Naval Nuclear Power program on the USS Truxtun before attending Multnomah Bible College. He holds a Master's in Philosophy of Religion and Ethics from Talbot and a Ph.D. from the University of Aberdeen's Highland Theological College. Dr. Gurney will be sharing about the realities of Post-Traumatic stress among military veterans, and some ways the church can aid in their healing processes.
DR. KARL KUTZ (WORKSHOP) – TRAUMA IN THE BOOK OF JOB
The current Chair of Biblical Languages at Multnomah University, Dr. Kutz also specializes in the Book of Job (in particular how the Greek translation, known as the Septuagint, reflects biblical interpretation during the Intertestamental period). Perhaps no other book of the Bible reflects on what we would call the theme of trauma more than Job. But what does this often ambiguous story tell us? Dr. Kutz will guide us through several key themes during his workshop, helping us understand what the story can tell us today.
Multnomah University
8435 NE Glisan St
Portland, OR 97220
503.255.0332
877.251.6560
Comments
comments