This August marked the 14th year that amazing youth leader Joanne Stark and her youth group from Roberts United Methodist Church have made the trek to Intermountain's residential campus in Helena to spend a day doing a fun art project with the children and sought to bless and encourage the children and staff as well. This year the project was making large banners for each cottage and it was a blast watching our young artists at work. As the children worked side-by-side with the youth from Roberts they had a chance to get to know one another, talk, laugh, and share stories.
After the group completed their special art project with the kids they headed out to go shopping and returned the next morning with new clothes and shoes for the kids on campus. In addition to these special gifts, the youth bought a shopping cart full of art supplies for Intermountain school and the chaplain's program. The generosity of this group really blew me away and I was very encouraged by their interest in what we do and why we do it. We even started to talk about plans for next summer, when hopefully they will be able to be a part of the new chapel construction!
As we wrapped up our time together, I asked a few of the youth to share why they saved up their money, came all the way from Roberts, and wanted to be a part of blessing the children on campus. Here are a few of their responses:
"I love seeing their smiles and joy when we do things with them. I've come before and I remember last year I got a pair of shoes for one of the little girls and she put them on and was so happy… she just jumped up and down all over with this big smile on her face. It was the best feeling ever!" –Matthew Donohue, age 15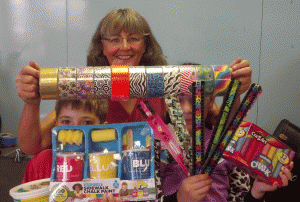 "If someone asked why they should come and volunteer at Intermountain, I would say it was one of the funnest times I have had. Also, I would want them to have fun too by coming to help." –Gracey Everett, age 13
"I've been here before and one of the little boys even remembered me, and I thought that was really cool. I volunteer at intermountain because it is so much fun to learn about new people and make new friends. I have a blast doing the activities with the kids." –Brooke Miller, age 12
I am so thankful for the partnership of churches like Roberts UMC and their youth. They understand that you don't need a huge church, a big budget, and lots of people to make a difference. They have just humbly responded to the call to get involved and make the children of intermountain a priority. As they have done so, the Lord has blessed them tremendously and they have been able to surpass even some of their own expectations. I hope their story is an encouragement to you as you think about how you, or your group, might want to get involved in the ministry here.
Comments
comments